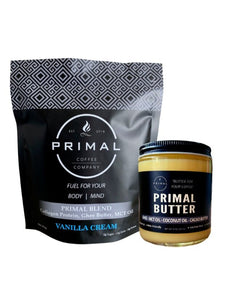 Bundle & Save
Receive one Full Size Bag of Primal Blend and one jar of Primal butter.
*Discount codes cannot be combined with Bundle & Save Items
Great additive to your coffee
Really enjoy switching it up between the two on a regular basis. I feel that both give me that somewhat filling feeling that you don't get with just coffee. Quickly became a must have for me to start my day.
Awesome Bundle
I really enjoy starting my day with the primal blend fuel or the primal butter...I like to switch it up - I do find that the butter keeps the later morning hunger at bay longer but I like the extra ingredients in the fuel and it allows me to avoid taking extra collagen supplement. Either way it is a great way to get some fuel early with my first cup of coffee be it for work or catching that morning swell! Cheers guys, keep it up!