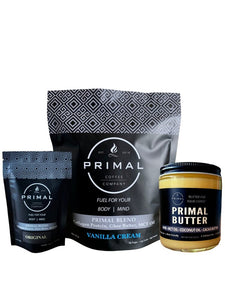 Bundle & Save
Receive one Full Size Bag of Primal Blend, a Mix and Match 5-Pack of our Single Serving Packs of Primal Blend, and one Jar of Primal Butter.
*Discount codes cannot be combined with Bundle & Save Items
Best Healthy Coffee Addition EVER
I absolutely loved this! The french vanilla was my favorite, but I can honestly say that there wasn't a single flavor that I didn't at least like. Will be reordering asap.