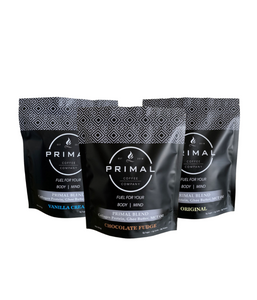 Bundle & Save
Receive 3 Full Size Bags of Primal Blend.
*Discount codes cannot be combined with Bundle & Save Items
Excellent creamer
This creamer allows me to get that added fat into my diet easily. I don't drink coffee, however I find it quite delicious in my morning cup of black tea. Tasty & easy added fat, a great add to my ketovore diet.
Great taste and energizing
I have been enjoying these creamers for several months. I love all the flavors. These drinks give me the energy I need to get through my weekly workouts. Great product!
Five Stars
I have been using Primal Coffee creamer for a couple years. It's an amazing way to start my day. Long lasting energy, appetite managing, and great fuel. I'm 100% sold on its benefits for me. I always love how you get a hand written thank you from each order. Thank you for your wonderful product and your appreciation of my support. Stoked!
Customer Service!
I recently placed an order and did not include the full mailing address, so the order wasn't received. My mistake! but Primal Coffee Company was all over it, kept in contact with me often, ultimately re-sent a fresh order. The creamer is amazing, as well as the customer service! Doing the bundle & save as I will continue to order regularly:)
All three flavors are great
We like the three pack. You get three great flavors at a disco. What could be better