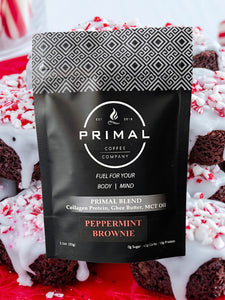 Limited Edition Flavor
Enjoy 5 single serving packs of our Peppermint Brownie Primal Blend Coffee Creamer! 
A rich chocolatey brownie flavor with a refreshing burst of mint.
Ingredients: Grass-Fed Collagen, Organic Grass Fed Ghee, Organic MCT Oil, Organic Raw Cacao Butter, Organic Coconut Oil, Organic Raw Cacao Powder, Organic Stevia Extract, Organic Ceylon Cinnamon, Organic Flavor Extract, Pink Himalayan Salt
Peppermint Brownie
Another amazing product! I really loved this flavor!