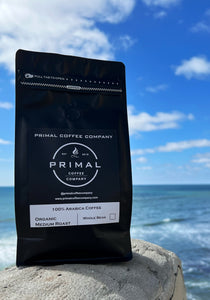 Introducing our new Primal Coffee Company Coffee Beans! This is a Specialty Roast Coffee that is roasted locally in San Diego in small batches.
Medium Roast, Latin American Blend of 100% Arabica Coffee.  
A Full Bodied Coffee that contains notes of Chocolate, Brown Sugar, and Graham Cracker.
Not only does it taste great on its own, but it pairs perfectly with our Primal Blend Collagen Creamer and our Primal Butter!
*Only offered in Whole Bean