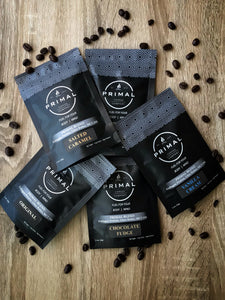 Are you looking for the ultimate variety pack? Then this is for you! Customize your very own 5 pack.
Best Creamers with collagen and Mct on the market
Friend turned me on to them and years later I have returned I love them!
Amazing!! If you are looking for healthier but still sweet and satisfying, this is it.
This creamer is an answer to prayer. For me (as someone who struggles with food addiction) and for my mother-in-law who was recently diagnosed with cancer.
Sugar plays such a huge part in our well being, mentally and physically, and sugar-free stuff is even worse....so we've both been looking for something to replace our creamers.
We found it.
This is actually helping me stay satiated throughout the day without the wild cravings that I would usually get. I never attributed the cravings I would get to the sugar-free creamer I was using, but I experimented over the past week, and when I have my usual creamer, that's what would happen! Then when I would have this creamer, there would be no cravings! Crazy!
I loved every single flavor. Thank you, Primal Coffee. Y'all are doing big things!!! Praying for your success! 🙏🏻
Best flavored collagen
One of my favorite collagen that I add to my coffee & shakes when I'm on the go. It mixes very well & I use it daily! All are my favorite but salted carmel & white chocolate peppermint are top 2!!
Disappointed
The flavor was okay, but not sweet enough and I had to add stevia. I like my preparation simple--so simple that i drink organic instant coffee. So when I first tried the Primal creamer, I just dumped it into the coffee, which immediately turned into an unappetizing clumped mess. So, then I read the directions.....Oh, you have to blend the coffee and creamer in a Blender before you drink it! An added pain I didn't feel like adding to my just woke up routine. But I did it. My experience was that since I don't gulp my coffee down, as it sat there between sips, it started to separate again and I didn't finish it. The vanilla cream had the best flavor and the chocolate fudge did not taste like chocolate at all.
yummy, a bit pricey but overall a nice way to enjoy a cup of coffee
GOod Stuff, seems like a cool company, i found out about Primal via a pro surfer who said "I have this sophisticated way of drinking coffee" i said wtf??! neat. then I got the sample pack. Little pricey but cool to have a healthy coffee creamer.