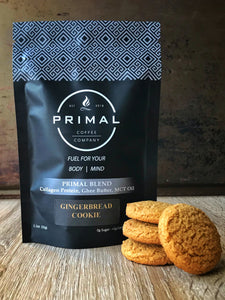 Limited Edition Flavor

Enjoy 5 single serving packs of our Gingerbread Cookie Primal Blend coffee creamer! 
Delicious notes of spice, nutmeg, and molasses.
Ingredients:
 Grass-Fed Collagen, Organic Grass Fed Ghee, Organic MCT Oil, Organic Raw Cacao Butter, Organic Coconut Oil, Organic Stevia Extract, Organic Ceylon Cinnamon, Organic Flavor Extract, Pink Himalayan Salt
Good flavor
It could use a little more upfront ginger flavor. As I was swallowing the coffee, I got a little burst of ginger.
Can't live without this product!
I love the quality and taste of the coffee creamer! Honestly all of the flavors are great! They mix well and fit perfectly into my macros! I won't life without these products!!!
Gingerbread in a Cup!
I know this is a limited edition, but it's so good! If you love gingerbread, this is like gingerbread cookie in a cup. As soon as the cold weather set in, I couldn't help but add it to my cupboard. It's the perfect way to start a cold morning!